Mix and Match: Creating Stunning Outfits with Skirts for Women
Patterned skirts are a versatile and stylish addition to any wardrobe. Whether you prefer florals, stripes, polka dots, or abstract prints, there's always a patterned skirt that can elevate your fashion game. In this guide blog, we'll explore the art of mixing and matching to create stunning outfits with patterned skirts for women.
Embrace Versatility
The first rule of creating stylish outfits with patterned skirts is to embrace their versatility. Unlike solid-colored skirts, patterned ones can add an instant pop of personality to your ensemble. They're not limited to one specific look or occasion, so let your creativity run wild and trust what your instincts have to say.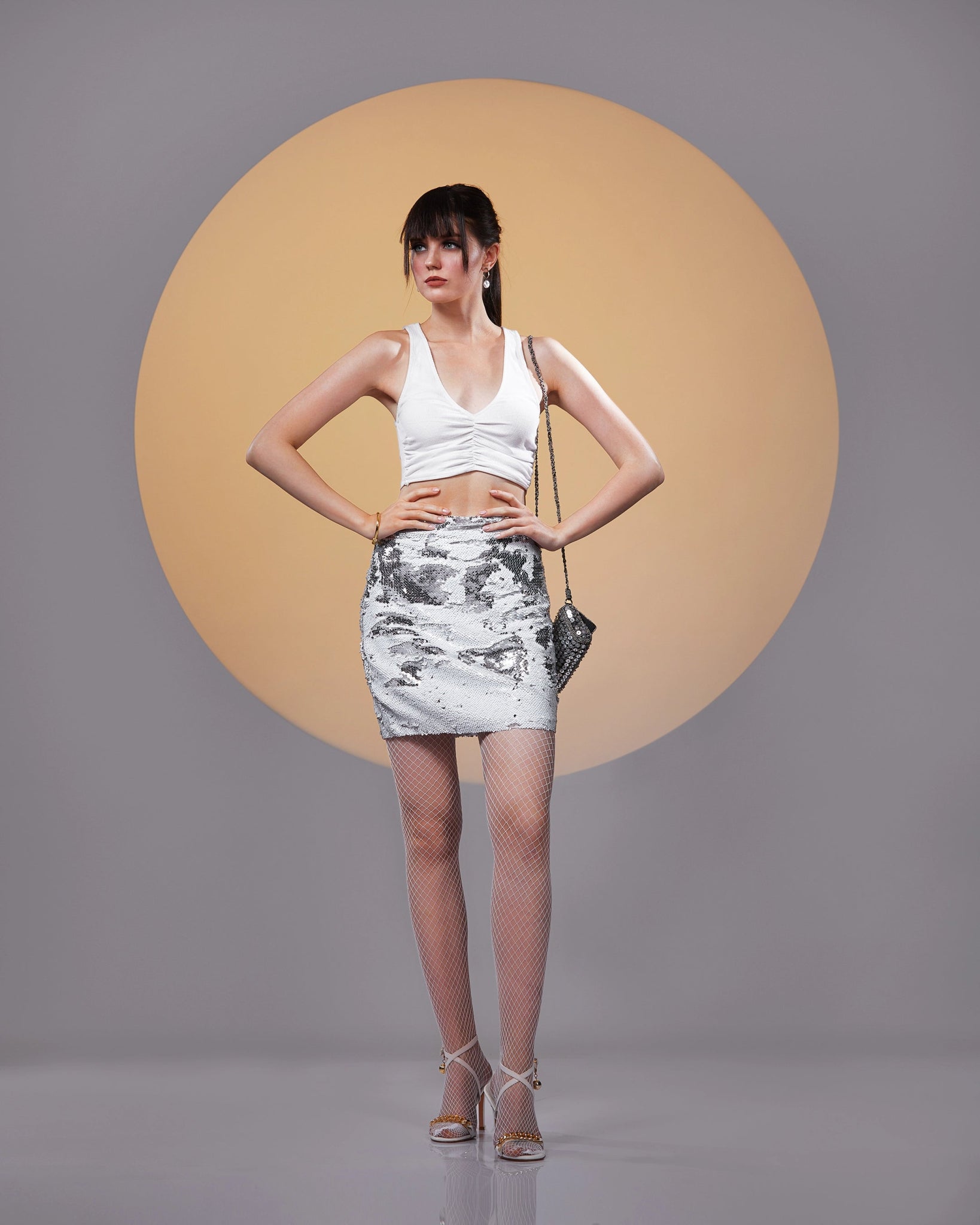 Finding the Perfect Pattern
Before we dive into mixing and matching, let's talk about finding the perfect pattern for your style. The key is to choose patterns that resonate with you. If you love nature, floral prints might be your go-to type. If you prefer a more classic look, stripes and polka dots can work wonders. Don't be afraid to experiment with various patterns to see what suits you best.
Pair with Basics
One of the easiest ways to create a stunning outfit with a patterned skirt is to pair it with basic tops. A simple white t-shirt or a solid-colored blouse can balance out the busyness of the skirt's pattern. This creates a chic and effortless look that's perfect for casual outings or brunch with friends.
Color Coordination
While you are mixing and matching, don't forget to pay attention to color coordination. Pick one or two colors from your patterned skirt and incorporate them into your top or accessories. This not only ties your outfit together but also highlights the colors in the skirt's pattern. It's a subtle yet effective way to create a harmonious look. Therefore, while color-coordinating your outfits, keep in mind the various vibrant color options available for skirts for women.
Layer It Up
For cooler seasons, layering your outfits is your best option. Throw on a stylish jacket, cardigan, or blazer over your patterned skirt and top. This adds warmth besides adding depth and texture to your outfit.  for example, A denim jacket with a floral skirt creates a charming and laid-back vibe.
Mixing Prints
If you're feeling bold and adventurous, mixing different prints can yield fantastic results. The key to mastering this technique is to find a common color or theme between the prints. For instance, if your skirt has a small polka dot pattern, you can pair it with a striped top that shares one of the colors from the skirt. Mixing prints adds an element of surprise and individuality to your outfit.
Belts and Accessories
Don't underestimate the power of belts and accessories when styling patterned skirts. A well-chosen belt can cinch your waist and define your silhouette, enhancing your curves. Meanwhile, statement accessories like chunky necklaces, scarves, or earrings can draw attention to your outfit and balance the visual interest of the skirt.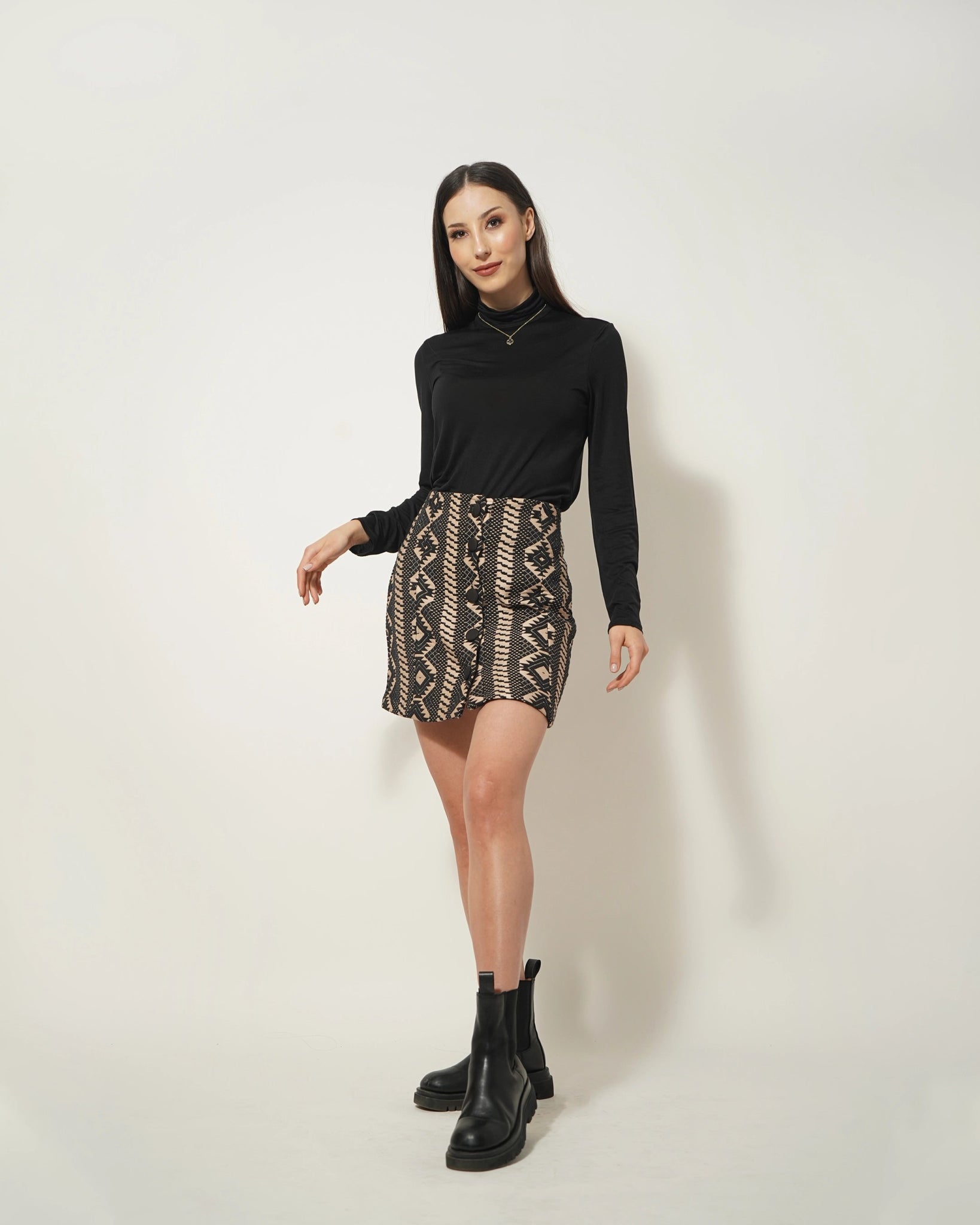 Your Footwear Matters
The choice of your footwear can either add glam to your outfit or destroy the whole look of it. Depending on the occasion and your personal style, you can pair patterned skirts with various types of shoes. Ballet flats, sandals, ankle boots, or even sneakers can complement your look and change the vision of your outfit differently. You can experiment with various types of footwear to achieve the desired vibe, whether it's casual, elegant, or edgy.
Occasion-Based Styling
Patterned skirts for women are versatile enough to transition from casual to formal settings. For a daytime look, opt for lighter fabrics and casual tops. As the sun sets, switch to dressier tops and accessories to transform your outfit for a night out. The same patterned skirt can serve you well on multiple occasions with the right styling.
Must-Have Patterned Skirt Collection
To provide you with some visual inspiration, we have mentioned below three stunning outfit ideas, created with patterned skirts:
Casual Chic: You can Pair a navy blue and white striped skirt with a simple white t-shirt. Add a denim jacket for layering and some white sneakers for a comfortable yet stylish look. You can style like this while going shopping, or a movie, or even while going to college.
Bohemian Dream: For another outfit option, you can choose a flowy floral maxi skirt with earthy tones, and pair it with a lace-trimmed blouse and a wide-brimmed hat. Complete the look with brown ankle boots for that perfect boho vibe. Perfect for a beachy vacation!
Office Elegance: Opt for a knee-length polka dot skirt with a black and white pattern. Tuck in a black blouse and add a skinny belt to accentuate your waist. Finish with classic black pumps for a sophisticated office outfit.
In Conclusion 
Patterned skirts for women are a fantastic addition to your wardrobe, offering endless opportunities for creative styling by Wabi Sabi Styles. Embrace their versatility, experiment with mixing and matching, and pay attention to color coordination and accessories. With the right techniques and a bit of imagination, you can create stunning outfits that showcase your unique style and personality. So, go ahead, express yourself, and have fun with patterned skirts!